Savogna

The vast majority of the municipal area consists of the southern slopes of Mount Matajur. The mount's peak - with 1643 m the highest in the foothills of the eastern Julian Alps - allows a magnificent view from the Julian Alps to the Dolomites, the Karst, and all the way to the lagoon and the sea. That is why the area is so well known for splendid excursions in a marvellous setting.
Of architectural interest are the typical houses in this area: they are made of stone, have wooden galleries and rustic decorations, and blend in very well with the beautiful nature that surrounds them.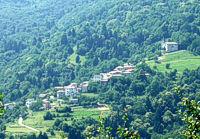 On some houses in Tercimonte and Dus visitors can enjoy devotional frescoes, mainly works of Jacun Pitôr (Giacomo Meneghini of Nimis, 1851-1935), the only truly naïf painter in Friuli's history.
Particular mention must
be made of the various valuable works of art in the votive churches in Brizza and Pechinie and of the statue of the Sacred Heart of Jesus (1907) of painted cement in Montemaggiore.