Grimacco

Until the 13th c. Grimacco was part of the feud belonging to Jacuminas de Civitate (Cividale), under the Patriarchate of Aquileia. Subsequently, and until the end of the Republic of Venice (1797, treaty of Campoformido), Grimacco belonged to the Banca di Merso, an elective council responsible for the local political and judicial affairs that held its meetings with the Banca di Antro (in the municipal area of Pulfero) in the small church of San Quirino e San Pietro.
Of particular importance is the church of San Martino on top of the mountain of the same name; it dates back to the 14th century and is the oldest in the Natisone Valleys. From this church a footpath leads up to the mountain. The very scenically located borough of Topolò is a classical example of the rural architecture of the past. Several important cultural events and arts exhibitions are held here.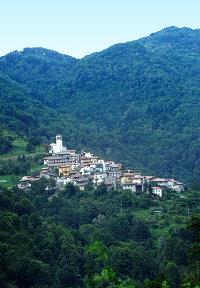 Of artistic relevance is the impressive church of S. Maria in Liessa: its façade features a mosaic depicting S. Barbara, a gift of the emigrants. There are many little churches scattered about the municipal area in scenic spots of breathtaking beauty. Among them: S. Martino Vescovo in Canalaz di Liessa; S. Mattia Apostolo in Costne (late Romanesque period), and S. Michele in Topolò.