Strucchi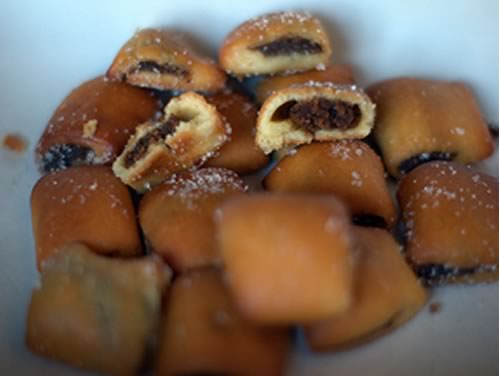 strucchi FRIED
Ingredients for 4 people:
250 gr. flour, 1 tablespoon of baking powder coffee, 75 gr. of sugar, 80 gr. of butter, 1 egg and 1 egg for the dough, 1 egg, 1 vanilla, grated rind of 1/2 lemon (untreated), warm milk q.s., q.s. salt, oil for frying. For the filling: 250 g of shelled walnuts, 300 g of raisins, 50 g of pine nuts, about 100 g of cedrini, about 150 g of almonds or hazelnuts, about 50 g of dark chocolate, a pinch of cinnamon, 1 small glass of rum, 1 cup of grape brandy, 1/2 cup bread crumbs.
Method:
Roll out the dough to a thin sheet, (for faster work, use the raviolatore), adagiatene raviolatore half on lightly floured, you have a little 'filling on each of the pans, wet all the edges with beaten egg white, because the dough adheres better, cover with the other half, press on all edges, cut the wheel cutter along all edges. Fry in hot oil until golden brown strucchi by both sides. Remove them from the pan and place in a bowl and zuccherateli.
strucchi COOKED
ingredients:
1 kg of flour, 1 l. warm water, 4 g of salt, 1 glass of oil, filling for fried strucchi.
Method:
Knead all the ingredients (except the filling). Take some 'of dough and roll it out to form a 6-cm disc. diameter ca. and a thickness of 3-4 mm. ca., the center of the disc, place a bit 'of stuffing, fold the dough in half to close. Place the candy from the closed part on the work surface, flatten a little 'in the middle, take the edges and add them to form two small "ears." In a saucepan, bring to a boil plentiful water a little 'salt, pour strucchi and remove them when they surface. Toss with melted butter, sugar and cinnamon. (To get the strucchi of the same size, take part of the dough, form a cylinder, as to make gnocchi, cut into regular pieces and proceed as described above.)